Working alongside Anna K Wright, we were commissioned to create branding, website design, script creation and promo animation to increase awareness to a new, innovative text message learning system – txttutor.com
This was a full service project, combining our skills in graphic design, animation and script writing.
We wanted to keep the look and feel of the animation flat, almost 2D to help convey a sense of simplicity. This is in keeping with the simple but effective approach txt Tutor uses to deliver daily nuggets of information.
Working mainly with Cinema 4D we achieved the 'flat look' by texturing only in the luminence channel with no additional lighting (this also cut down render time). A hint of depth was added in some scenes with ambient occlusion only.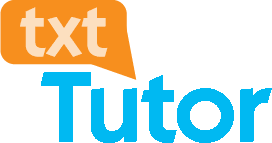 Initial branding concepts

Final branding colours and logo design.
Desk scene test Cinema 4D file.
Books suck into phone scene C4D test file.